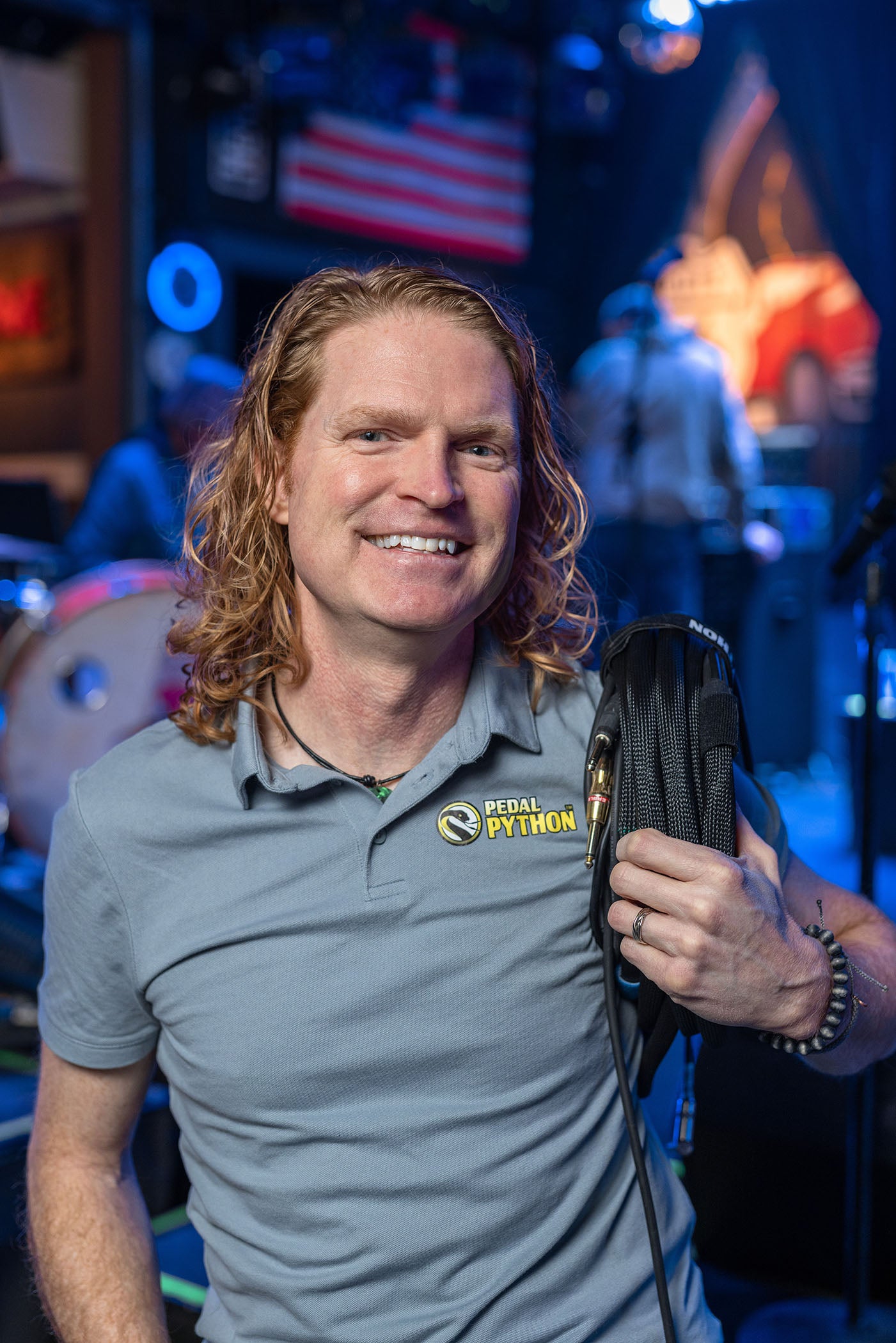 Hi! I'm Kevin Wasmer, inventor of Pedal Python™.
Back in 2010, when I was a guitar player in a fledgling rock band, I had a gloriously complicated pedalboard. It had 3 cables, but they were 30 feet long, and my band gigged a lot!
After getting cussed out on more than one occasion for taking too long to set up and failing to "Get off the damn stage already!!", not to mention tripping on my cords and accidentally leaving behind a few expensive cables (OUCH), I determined I was going to come up with a new way to get these cables in order or die trying.
First I tried electrical tape, what a gooey mess! Next I tried using a bunch of exposed zip ties. After slicing my fingers open several times (OUCH again) I still needed something BETTER.
I went to music stores big and small and found no cable organizers that worked great with my cables. They were either bulky, ugly, or expensive. I even looked into getting all of my cables remade into a "cable loom" or "cable snake". Those can cost upwards of $300, and if you want to change your cabling, you're stuck. No way dude!
So in true rock and roll DIY spirit.... I made my own! I scoured the industrial market for the right types of material and invented a simple but effective system to hold it all securely in place no matter how many times I loaded and unloaded my gear. I also made it easy to take on and off, for those times I had to change out a bad cable. And that was the very first version of what would become Pedal Python. Life was good. I even got off stage faster than the drummer!
But then... something else happened. Every time we would do a show with other acts, the other guitar players kept asking me where they could buy this cool thing. I asked myself, is this something that people really want? So, I turned that question out to all my guitar player friends on a giant Facebook message thread with a picture of my "Pedal Python", asked them if they would want one and how much they'd pay. The results were eye-popping.
So, I sold one of my guitars, took the cash, bought a domain name and my first batch of materials. Out of my basement, and with the help of a talented videographer and a nice lady I knew with an embroidering machine, the first Pedal Python™ came to life. Now, many years later, thousands of my fellow musicians like you across the world have made their lives happier with Pedal Python™! Thanks for joining me on this journey!
Now, get off the stage! (Quickly, please.)
Sincerely,
Kevin Wasmer
Owner/Inventor
Pedal Python™